In the new digital economy, restaurants owners are increasingly realising how integrated an Online Ordering system to their business. A ordering platform attached to the website not only enhances the customer experience but sets up the business for significant growth by directly affecting sales.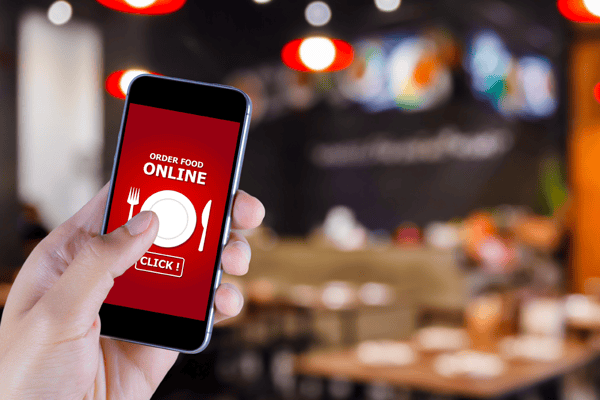 Here is a list of the top 7 advantages an Online Ordering System offers your restaurant;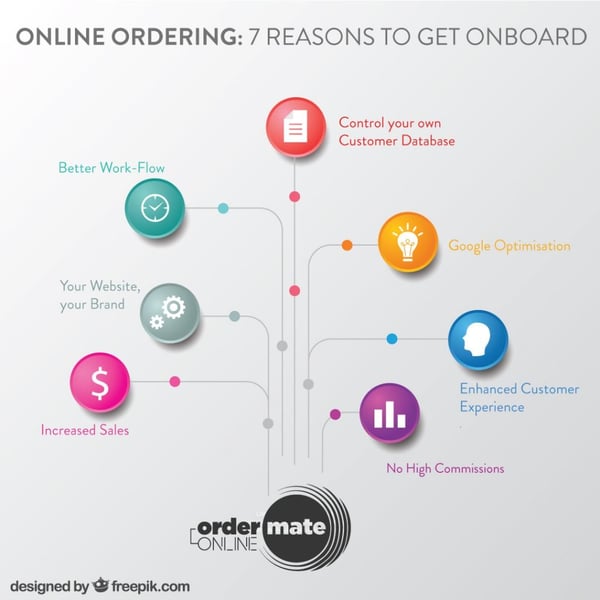 1. Your Brand – Your Website
One of the biggest downfalls with being listed on a third-party Online Ordering platform is that your brand hardly gets noticed - it's so easy for your business to become washed out among your direct competitors. With an Online Ordering System on your website - the control is back in your hands. Customers are directly interacting with your website, looking at your branding and are 100% your customer. This is important when you are in it for the long haul and looking to build a loyal customer database that you intend to market and to nurture them for long term growth.
---
2. Build your own Customer Database
The powerful analytics provided through an Online Ordering System offer significant benefits to restaurants, assisting them to better meet patrons' needs and increasing the likelihood of repeat business. When customers place an order via an online order form, a customer profile is created which becomes part of a database. This database can be used to offer personalised customer service, including a loyalty program. Tracking and recording customer activity also offers valuable insight and information for sales analysis which can be used for menu adjustments, promotions development and delivery area assessments.
---
3. Enhanced Customer Experience
Customers embrace the convenience of online food ordering. Whether on a work break, commuting home or stuck in a queue at the supermarket, anyone can place an order quickly and easily, ensuring that their meal is ready for them when they are ready to eat it. Similarly, customers value the experience of placing food orders online with their favourite restaurants without having to leave home. They also enjoy the ease with which they can lodge specific preferences compared to the relative complications of communicating individualised needs over the phone. By reducing the number of overall phone order a restaurant receives, Online Ordering facilitates shorter wait times from order to actually enjoying the final product.
4. Google Optimisation
Research shows that most consumers use the Internet as a search tool when deciding on where to eat. By providing an Online Ordering platform, you open your business to the benefits of gaining and maintaining your customers' attention through Google Optimisation. And by connecting your Online Ordering System to social media platforms such as Facebook, customers can order directly from your page by clicking "Shop Now". By offering your customers more avenues to order with your business, it increases your revenue while at the same time staying relevant to your tech savvy customers.
5. Better Work-Flow
When restaurant employees have fewer phone or in-person orders to handle, they have more time to invest in delivering a quality product and overall customer service. By bringing the customers order directly into the restaurant's system, an Online Ordering System also cues up the order while providing dynamic feedback that allows orders to be delayed if there are too many coming in, taking the pressure off employees and ultimately enhancing customer experience by averting unnecessarily prolonged wait times.
As online orders are transmitted electronically directly to the restaurant's kitchen printer, verbal or written staff-to-staff miscommunication of orders can be eliminated.
With an Online Ordering System, the restaurateur also enjoys the many benefits of an online menu which can be easily updated whenever needed or desired. The online menu can be customised as often as required with images being regularly updated, add-ons included, daily offerings set up and food items with limited availability effectively managed.
---
6. Increased Sales
When a restaurant implements an Online Ordering interface at the forefront of their web presence, consumers are able to purchase as soon as they're introduced to the restaurant. Repeat business is also generated. If a user likes the restaurant's Online Ordering System, they'll be more inclined to use it again rather than navigate anew the entirely different system of a competitor.
An Online Ordering System offers the advantage of increasing the average size and cost of an order, through up-selling. With in-person or telephone orders, employees often neglect or are reluctant to suggest additional items (comes to mind -"would you like fries with that" in a deadpan voice as said by McDonalds staff), particularly during a rush period. By contrast, with an Online Ordering System, restaurants can simply customise their online menus to highlight any menu specials or more freely entice their customers to try specific menu items. Customers can also take their time reviewing the menu, considering the current specials and making additional selections beyond what they would usually order over the phone.
---
7. No High Commissions
Third-Party Online Ordering Companies can charge anywhere between a 14% - 35% commission fee per order. With your own Online Ordering system on your website, you can save more money by cutting out the middleman.
---
In Conclusion
Online Ordering Systems are one of the greatest modern technologies benefitting the growth of the hospitality industry. Providing customers with the ability to take over the ordering process themselves can save restaurant's time and money as well as capture actionable information, facilitate smoother business operations, enhance customer service and experience and ultimately increase revenue. With so many advantages, integrating an Online Ordering System is a smart business move for any restaurant.
Get started with Online Ordering today.
Subscribe to latest news and updates!