We got in touch with one of Melbourne's favourite venues, Daughter in Law, to hear their story of strategic online ordering success. The restaurant is known for serving "unauthentic Indian" dishes in their quirky and comfortable atmosphere.
When hospitality venues had to close, the team at Daughter In Law remained optimistic and knew that they had to adapt. As a role model in the Melbournian dining scene, Daughter in Law shared with us how they have faced new challenges with a strategic mindset.
Our industry is slowly moving from a 'recovery' phase to a 'growth' stage while restrictions are being lifted. Hospitality venues in Australia have become strategic and creative in order to protect their businesses. Now it's time for your venue to prepare for what's next.
Are you ready to pivot, promote and progress?
Note: This is the final segment of our three-part Pivot series. To read on how one of our venues adapted their service, the previous segment can be found here.
1. The strategy
When things got worse in Europe, Shane Barrett, Operations Manager at Daughter in Law took immediate action to stop any expenditures possible and brought everything back in-house.
"Staffing was the #1 concern as we didn't know what would happen at that time," he said.
"Through the immense pressure and passionate discussions, we use our experience and take the leap together as one." Shane also emphasised that at times execution is more important than the idea. As such, there are no right or wrong answers. Once the team has reached a decision, they back each other in.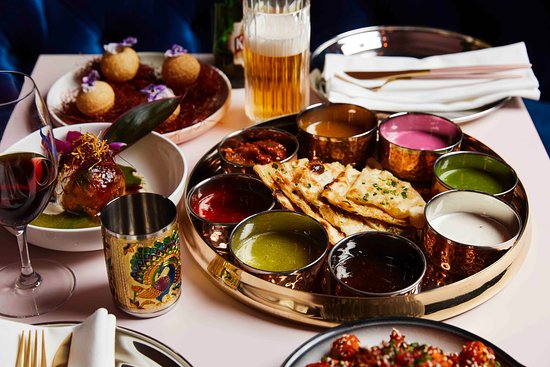 ---
2. The solution
Daughter in Law went online and began to serve their customers in a different way.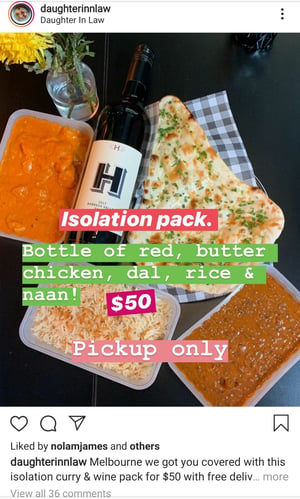 In addition to their classics such as palak paneer and butter chicken, they introduced a variety of survival packs. They have also opened a pop up in St. Kilda to reach their south-side customers who are excited to support local businesses as much as possible.
"We also try to keep our employees in a job by offering a 20% discount to our customers and free pick-up or delivery from either Melbourne CBD or St. Kilda," Shane shared. "More importantly, we communicated regularly with our customers on our new precautionary measures to make our customers feel safe during this challenging time."
Marketing has always been a huge part of their business and fortunately, they have a strong in-house marketing team to be able to put in extra marketing efforts, so more creative sessions were held. With a strategic outlook, the team also joined forces with other restaurants in the industry so that more ideas can be produced, allowing for cross-promotion and the ability to work efficiently as a whole.
---
3. The results
Shane admitted that they weren't a fan of technology as they strongly believed in the face-to-face experience to showcase the essence of hospitality. "The hospitality landscape will return to what it was before but we couldn't wait for that to happen," he said. The business needed to respond and was able to try out a different kind of experience through an online ordering platform.
One of the major learnings was that they had to switch on their business mindset and learn to reduce cost fast. "We are doing okay and we were able to conquer challenges with a new set of creative ideas and continue to be positive about it."
---
4. The future
Daughter in Law has adapted to pick-up and delivery but the team is already preparing for what's next. "See what's possible, explore what other countries are doing and keep up-to-date with what's happening to adapt accordingly," Shane suggested.
"We are dealing with the situation that is right now and looking at it as an opportunity to spend time on business rather than in business." He also shared a few of his plans such as repainting the restaurant, formulating a new menu, reshuffling his business model and evaluating his marketing and software systems.
When venues are allowed to reopen, Daughter in Law will have to think of ways to make customers feel safe dining in. "We do not want to support the idea of plastic cutlery. Instead, we may have to put in extra effort to use cutlery straight from the dishwasher. We will only allow diners who have downloaded the COVID-19 app and are considering developing a menu that customers can access from their phones."
Subscribe to latest news and updates!