A local favourite spot located in the iconic Melbourne suburb, Bentleigh, Good Times Milk Bar is known for its colourful Californian vibe with irresistible food and drink options. When the team learned about the closure of hospitality venues, they were determined to adapt. The team shared with us how they have brought the regular 'good times' into their customers' homes.
1. The strategy
The instant that the government announced the closure of hospitality, the team at Good Times Milk Bar felt uncertain about the future. However, they knew that they had to do something to respond.
"We got together in meetings to discuss what's next for the business," the team shared.
It was important to the business that they remain in touch with their customers. With the help of their provider, their online platform was quickly set up and allowed Good Times Milk Bar to continue engaging and helping the local community.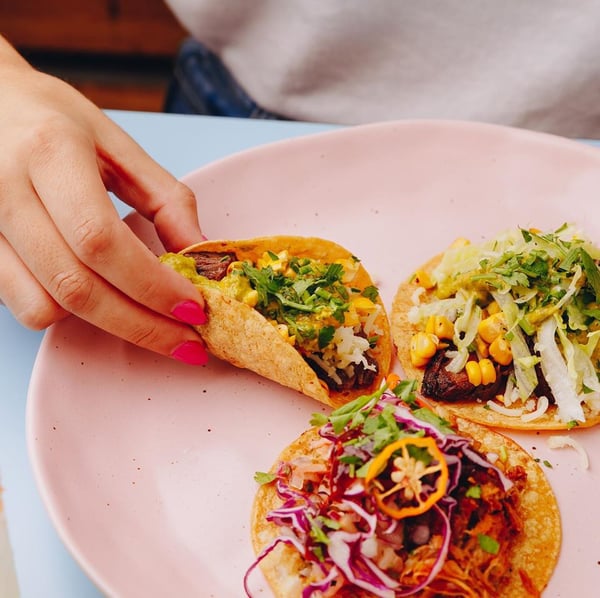 ---
2. The solution
Good Times Milk Bar went online and changed up their menu offering. The team highlighted, "We want to make sure that our offering remains appealing because we rely on word of mouth".
In addition to their classics such as their beef brisket taco, they began to offer taco kits, grocery packs, coffee beans, butcher quality meat and bottle shop options like margaritas and O'Brien Pale Ale to their customers.
Nevertheless, the team is still operating in the venue too where they are serving takeaway coffee, snacks and bite-sized items for the locals as they take their morning or afternoon strolls through the neighbourhood.
Good Times Milk Bar has also approached other venues to further their online presence. "We understood the importance of collaboration. Especially during this challenging time," they said.
To reach a wider audience and increase engagement, Good Times Milk Bar has recently joined forces with Mr Miyagi in their One Night Stand event where Mr Miyagi's team cooks with various venues in suburban areas of Melbourne, allowing the locals to have a taste of their signature dishes.
---
3. The results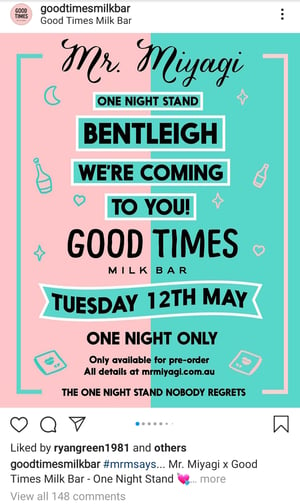 Good Times Milk Bar adapted quickly, retained staff employment and continued to create opportunities for local suppliers. "We're continuing to engage with our local audience which is essential to our business, especially in this unprecedented time. We want to show that we are there for them," they said.
As a result, their social media engagement, website traffic and customer database saw huge jumps in numbers.
The collaboration with Mr Miyagi also brought more online engagement, particularly when the event was announced across Facebook and Instagram. Good Times Milk Bar was pleased to partner with such a great profile and engage with Mr Miyagi's audience.
---
4. The future
"Shift your thinking and move quickly. No opportunity is a bad idea" is their advice. As a team, they have learnt to adapt to a new way of doing things as we progress through challenging times.
"We found out what's working for our venue as a response to the lockdown and we're able to reconnect with our local audience".
Good Times Milk Bar has recognised that the dining scene will not be the same when venues are allowed to re-open. They are planning their next steps now and are looking forward to launching 'Order at Table' technology in their venue, which will allow Good Times Milk Bar customers to view the menu and order food from their own mobile devices.
Subscribe to latest news and updates!