Since the rise of smartphones, many hospitality professionals are beginning to understand that diners nowadays have a higher demand for convenience. That's where self-service kiosk technology comes in. Self-service Kiosks are a great way to meet the demands of the consumer, all while boosting revenue for hospitality businesses. It's truly a win, win.
With growing popularity over the last five to ten years, it's safe to say self-ordering kiosks are here to stay.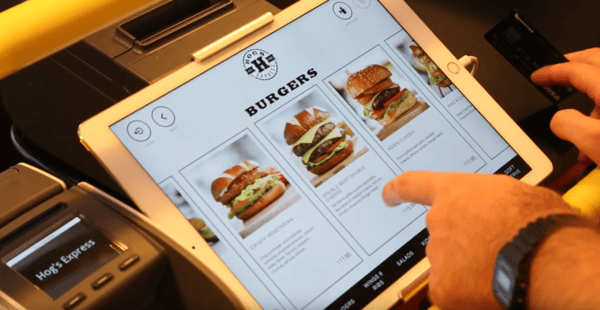 We've compiled a list of the 4 top reasons why self-service kiosks are so great, so you can begin to understand the unparalleled benefits that this new innovation brings. After you've read all the benefits, check out a real-life example of how self-service kiosks are driving the success of one of Australia's latest restaurant chains, Hogs Express.
1. Increased revenue
In a global scale, food businesses that employ self-service kiosks can expect a 13% increase in average spend per person. Some entities even report as high as 30 to 37 percent. This is easily achieved since customers are prompted to make additional purchases with suggested up-sells when ordering their meals. Plus, customers can obtain a list of specials and other menu items that they typically might miss on a conventional menu or specials board. These features instantly eliminate the need to train employees to consistently offer up-sell opportunities, which by the way, is considered by many hospitality professionals as a big hurdle for those who want to boost earnings.
---
2. Better Quality Product
With self-service kiosks looking after the ordering process, staff members can move to more crucial areas of the venue. Areas like the kitchen, the floor or the coffee station. This can speed up the preparation process and improve food quality – which can improve customer delight, fasten up the order output and encourage repeat business.
---
3. Improved customer experience
The prevalence of self-service kiosks vastly improves customer experience because with touch-screen self-service kiosks, interested customers can see images of the food items that they want and don't want. This, and the fact that they don't have to wait for servers to take their orders, makes it ideal if they don't have the luxury of time on their hands.
---
4. Enhanced order accuracy
Since customers can customise their own orders, staff can significantly cut down mistakes, omissions, and so on. To add, customers can easily review and double-check their orders, just to make sure it's 100% correct. The technology is designed to ensure that even first-timers and non-tech savvy individuals can place orders quickly and easily.
---
Summing up
Whether you own a start-up restaurant or an established food chain, bear in mind that self-service kiosks can be beneficial in more ways than one. This is the reason why restaurant owners shouldn't be surprised if they see them popping up all over the place. However, if hospitality professionals decide to go this road, they need to make sure to include human connection. After all, even though we live in a technology-driven world; in general, customers still yearn for the interaction with people. Simply put, ­­­­it all boils down to balancing the two aspects.
See how Hogs Express is increasing average spend per person with the latest in Self-service kiosk technology, honed and developed by OrderMate.
Are you interested in finding out more about self-service kiosks for your hospitality venue? Contact OrderMate today, and a member of our product services team will be in touch.
Subscribe to latest news and updates!