French chef Philippe Mouchel has returned to the Paris end of Melbourne's Collins Street with his own namesake restaurant - Philippe. Formally Jamie Oliver's Fifteen and more recently the Brooks of Melbourne has now been transformed by Crosier Scott Architects into a space that boasts a beautiful European twist on the trendy industrial chic look, complete with zinc bar top showcasing a charcuterie and oyster station.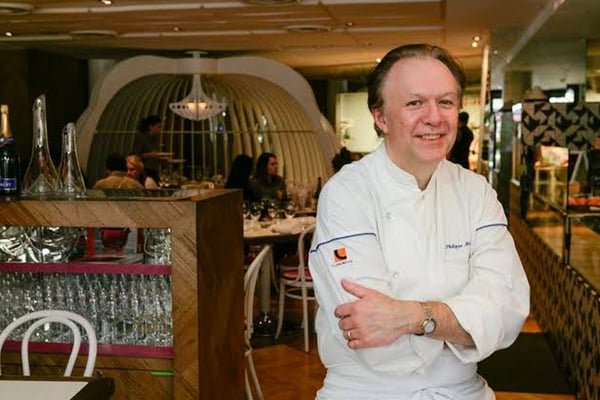 The basement fine dining restaurant, Philippe, only recently opened its doors at the end of June. Adorning the menu is his signature succulent rotisserie-cooked chickens, which crowned him a cult following back at PM24.
Philippe Mouchel, chef and restaurateur, has been schooling Melbourne for decades on classic French cuisine. In a more literal sense he has also been mentoring the training of the Bocuse d"Or Australian team who will be heading to Lyon in 2017 after the momentous win by Daniel Arnold and his sous-chef Ryan Cosentino in Singapore back in May. More commonly known as the international Olympics of food where chefs from around the world prepare dishes for a jury comprised of chefs from around the world who then choose the ultimate winner.
He has recruited Aurelien Gransagne, previously of two Michelin-starred L'Esperance, as his chef de cuisine. Together they have created a decadent menu including chestnut voloute, truffles and foie gras parfait. "As a French-trained chef, my cuisine is served with sauces and jus. I want the dishes to be gourmand, generous and affordable," said Mouchel.
Quality French food has made a mark on Melbourne and with the winter months still lingering, the diners and industry couldn't be happier.
115 Collins Street, Melbourne 3000. Bookings go to: philipperestaurant.com.au
Subscribe to latest news and updates!