'Buy Now, Pay Later' is a rising concept that benefits consumers and small businesses. People are now embracing this concept because it offers flexibility and convenience. Nearly 2 million Australians were using 'Buy Now, Pay Later' services at the end of 2019 and this continues to grow by 41% year on year.
Unlike traditional payment methods such as credit cards, with 'Buy Now, Pay Later' you no longer need to choose between (1) making minimum repayments, which incur interest, and (2) total repayments, which do not incur interest but can impact cash flow. Instead, hummpro is a new installment payment option explicitly designed to meet the needs of small businesses.
Check out how hummpro works and what it's all about.
Volatile trading environments, slim profit margins, late payments from trade partners, increased rent and payroll often make it challenging for you to meet your financial obligations. With hummpro, established hospitality venue or franchise owners can use 'Buy Now, Pay Later' as an alternative solution to address any cash flow squeeze and to grow their business.
---
Enabling established bar owners to expand their business
Jason wants to add a new outdoor dining area to his bar to serve more customers adhering to the social distancing rules. He needs to purchase outdoor furniture and additional POS tablets for his staff. Therefore, his cash flow is strained, especially since his plan to expand the outdoor dining area slightly impacts the bar operations for the time being.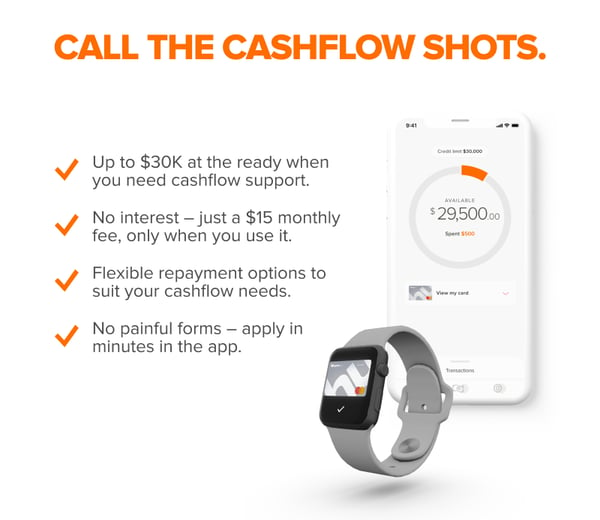 With hummpro's app, Jason can easily download it on his mobile device and apply for up to $30,000 in funds in just a few minutes. He can use hummpro to pay for the outdoor dining area, and he gets up to 2 months to repay this interest-free. By that time, he can launch his outdoor dining area and generate more revenue. Cash flow isn't an issue anymore! And if he still has a cash flow issue, he can extend his repayments further through a Pause or Plan.
---
Helping franchise owners manage their cash flow
Frank is planning to open in a new location under the franchise umbrella and needs to buy kitchen equipment and supplies. On top of that, he needs to set up a POS system with table ordering integration that allows diners to order via their mobile devices.

With hummpro's 'Pay, Pause, Plan' structure, he can now purchase what he needs for his restaurant and open the doors without having to dip into his savings. Additionally, he can put off paying hefty bills for 30 days or longer, giving him breathing room to continue meeting other expenses such as tax, rent and payroll, until the restaurant's revenue increases.
Many of us assume that 'Buy Now, Pay Later' is just for consumers but it has gained traction among small businesses to control their cash flow. With hummpro, you can buy the things you need for your venue and break down big bills into more manageable payments or hit pause if you need more time without racking up any interest or having to go through a lengthy application process.
Here at OrderMate, we are committed to helping hospitality operators run better businesses, so you can focus on doing what you do best. Get in touch with our consultants to find out how you can revolutionise the way you run your business.
Subscribe to latest news and updates!