Doshii offers a range of solutions for hospitality venues that enable their apps to communicate with each other and work in sync. We recently launched the OrderMate and Doshii integration, allowing venues to streamline operations and improve customer experience. What's even better? The Doshii marketplace is now embedded in the OrderMate portal, making it easier for venues to access the wide range of apps on offer.
How does Doshii work?
Doshii works with 40+ leading hospitality apps, including in-venue ordering, pickup & delivery rostering, reservations, payments and more. With Doshii, integrating your apps mean:
Increased productivity and fewer mistakes from staff.
Your ordering app orders are sent straight to your POS with no need for manual re-entry.
Managing your online menus from one cool, calm digital counter.
Access to Doshii's all Aussie-based customer service team.
Thousands of Aussie venues trust Doshii to help them increase staff productivity, reduce errors and manage their online menus from a single platform.
Connecting an app to OrderMate with Doshii is as simple as a few clicks...
---
Where to find the Doshii embedded marketplace?
OrderMate customers looking for Doshii apps can find them in the embedded marketplace on the OrderMate portal. The OrderMate portal can be accessed on any device, anywhere, anytime.
TIP: If you haven't switched to using the OrderMate portal yet, learn more here.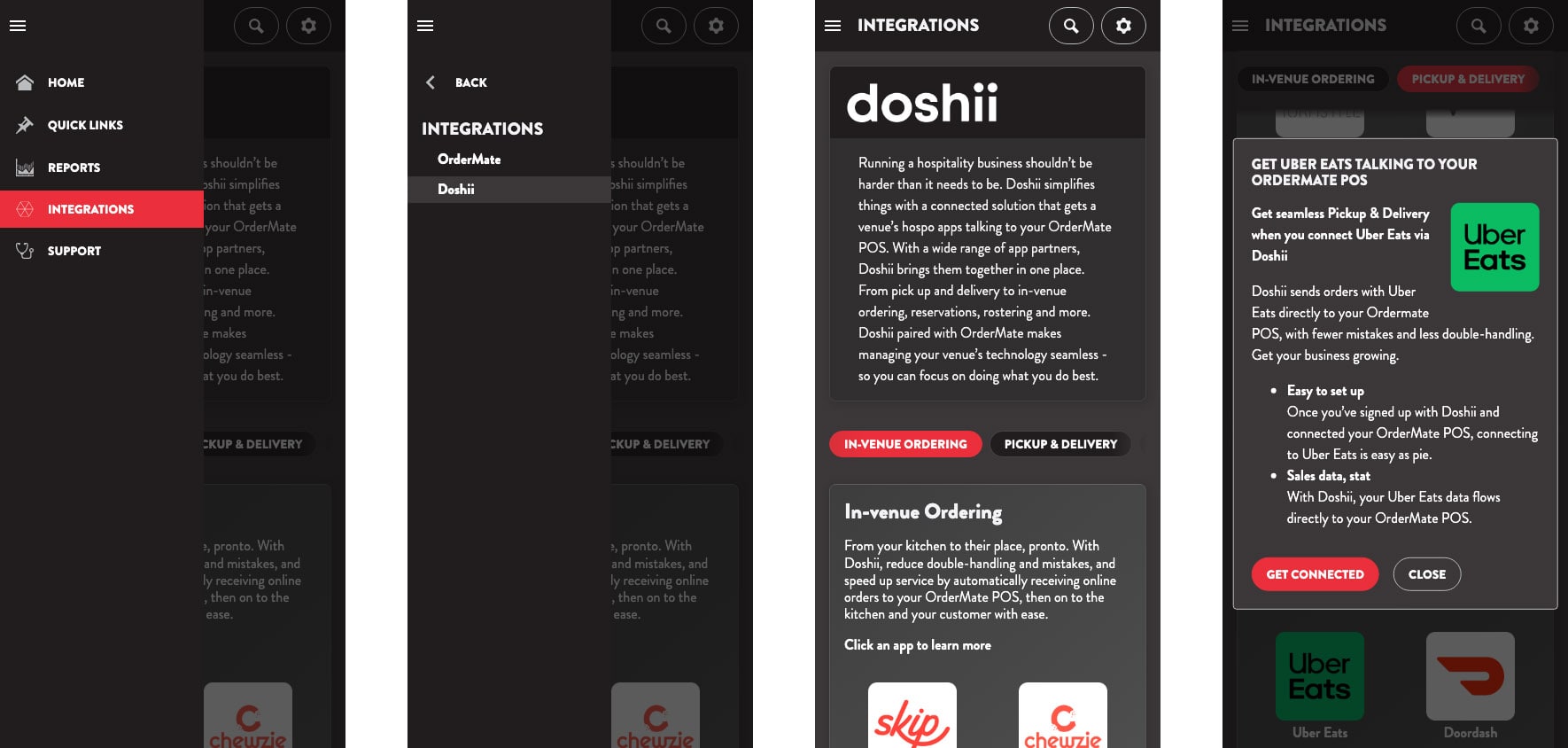 Log in and go to the top left corner of the screen and tap the menu icon (three lines). This will open the navigation menu, where you can go to Integrations and then Doshii.
You will then be on the Doshii app marketplace, where you can browse through different app categories and find further information about each app.
Tap on any app to learn more, and if you're ready to connect, simply tap Get Connected and fill out your details to send through to Doshii directly. It's that simple!
If you have any questions or issues, please see the OrderMate portal help guides.
Subscribe to latest news and updates!