The pandemic has drastically changed the marketplace for hospitality businesses with online food ordering increasing considerably; and this trend doesn't seem to be slowing down.
IBISWorld reports the market size of the online food ordering and delivery platforms industry in Australia has grown 20.6% per year on average between 2017 and 2022 to $850.5m!
Hospitality technology allows restaurants to meet customer demands by providing them with the flexibility of multiple online delivery systems. Customers now have the luxury of ordering food via marketplace/delivery apps and/or ordering straight from restaurants' digital menu/online ordering. With these, food can be delivered straight to the customer's door, made available for takeaway pick-up and even brought to the table with in-venue at-table ordering. Creating great customer experiences in today's age of convenience is vital to brand success. Customers are used to a variety of options and demand much more from the brands they support.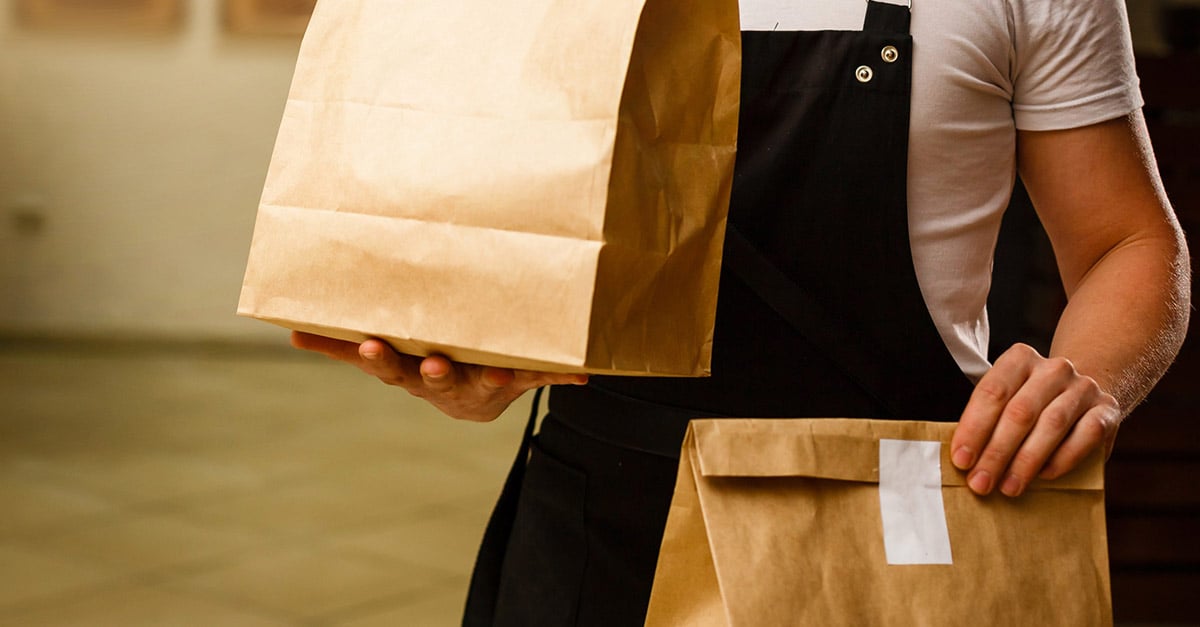 ---
Online Ordering Options
1. Your own Online Ordering Platform
Your own Online Ordering Platform enables customer access to your digital menu through either QR codes or via the restaurant's website. Customers can order takeaway directly through your venue's website for pick-up or delivery. In-venue customers can also order at-table by scanning QR codes on the table.
2. Marketplaces/Delivery Apps
Online Marketplaces and Delivery Apps allow customers to get the food they want delivered straight to their door or ready for pick-up straight from the restaurant. To place an order customers browse user-friendly food delivery platforms such as UberEats, MenuLog and Doordash. The benefit for the customer of these apps is the wide range of cuisines and restaurants they can choose from, at the touch of a button!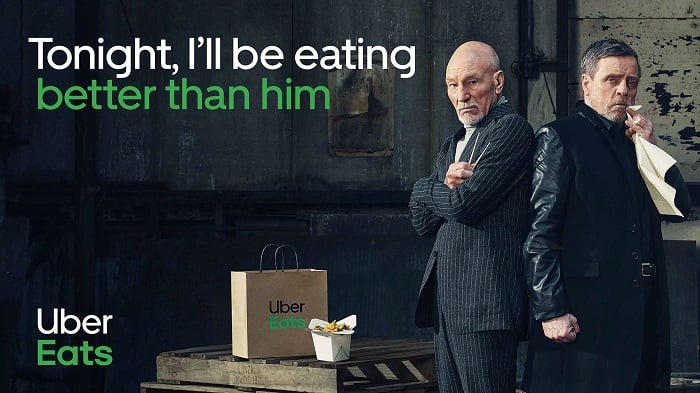 The main difference between these two online ordering options is where your customers can access your online menu and place their orders.
---
Benefits of having your own Online Ordering Platform
Creating your own Online Ordering Platform allows you to control every detail of the online ordering experience. Designing an eye-catching menu with your brand identity such as logos, brand colours and fonts helps to build a sense of connectivity between your venues brand and menu. The design and layout of your online menu has the power to generate larger sales through implementing strategic menu design, reportedly to grow profits by 10-15%. As well as growing profits, it also helps to build brand loyalty by using the same platform for online ordering and in-venue table ordering. It creates an authentic and personalised experience for customers.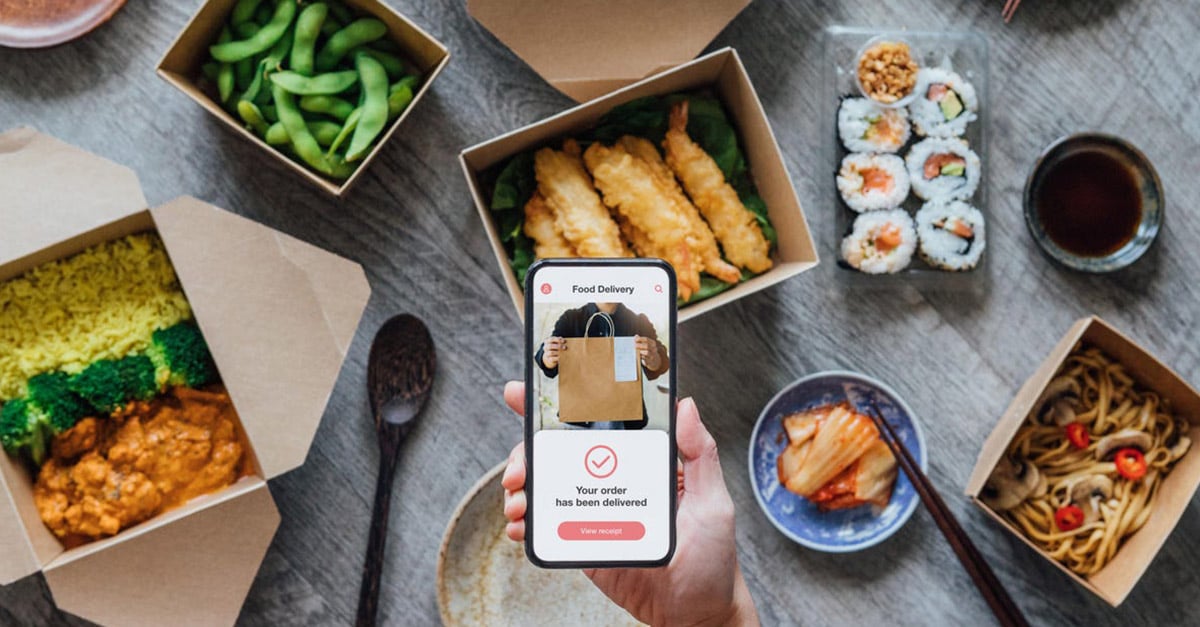 Having your own online ordering system allows you to gather customer data to create more targeted and personalised marketing campaigns. Collecting data allows you to better meet customer needs and wants, the more you know about your customers and their preferences the more likely you are to be able to correctly suggest products to them. This can help keep your customers coming back and buying more.
Benefits include but are not limited to:
A beautiful digital menu.
Custom-built menus/websites matching your venue's brand identity with logos, fonts, colours etc.
Update availability, upsell and feature item specials with ease.
Builds brand loyalty by using the same platform for online ordering and in-venue at-table ordering.
Can re-engage with customers through retargeted, personalised marketing.
Integrate seamlessly with your POS system and operational processes. Resulting in becoming less reliant on phone ordering terminals/staff.
Decreased order mistakes and customer complaints.
Lower fees than delivery platforms and higher profit margins.
Flexibility and ease for customers to order how they want: at-table, collect at the counter, delivery and pick-up.
---
Integrate with HungryHungry for your own Online Ordering Platform
Where do you get started setting up your own online ordering system?
HungryHungry simplifies and streamlines the ordering process for your customers and allows you to own your own online ordering. HungryHungry helps you create your online menus and includes customer-friendly features such as special dietary filters, top-of-menu featured items, instant online payments and easy order fulfilment. Helping you please all of your customers!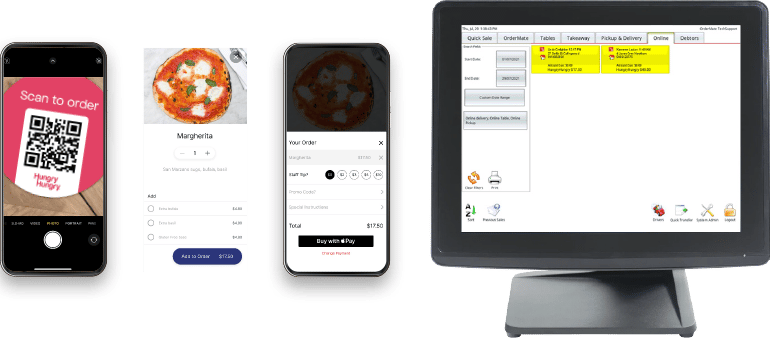 ---
Benefits of Marketplaces/Delivery Apps
An important benefit of having your hospo venue signed up and on Marketplaces/Delivery Apps is that they can increase your customer reach. You can increase your businesses exposure by leveraging the delivery platform's community, acting as a marketing platform. Customers scroll through these delivery apps to choose their dinner with 66% of consumers reporting using third-party delivery services to try a restaurant they wouldn't otherwise have tried.
Benefits include but are not limited to:
Attract new customers on multiple delivery platforms by leveraging their huge community exposure.
Ability to take orders from multiple platforms - UberEats, Doordash, Menulog etc.
Display your menu with high-quality images.
Easily update your menus with just one click.
Reliable two-way integrations to connect online ordering platforms to your POS system and operational processes.
Increase revenue with expanded geographical reach and access to driver pools.
Saves time, reduces labour costs, eliminates double handling and increases revenue.
---
Integrate with Deliverect for Online Marketplaces/Delivery Apps
Deliverect is a platform that makes integrating with multiple delivery platforms a lot easier to manage as it integrates all your online orders to your existing POS system. Deliverect streamlines processes, reduces double-handling and lowers failures and order mistakes while speeding up order preparation.

Deliverect automates the flow of third-party orders to your POS system. No more manual re-entry, tablet madness or unnecessary delays. With this automated flow of your orders, you reduce staff errors and labour costs as you won't need staff to re-enter the orders which takes up a lot of time throughout the night. Your staff now have the time to focus on your customer's in-venue and your chefs will be happy with the reduction of errors.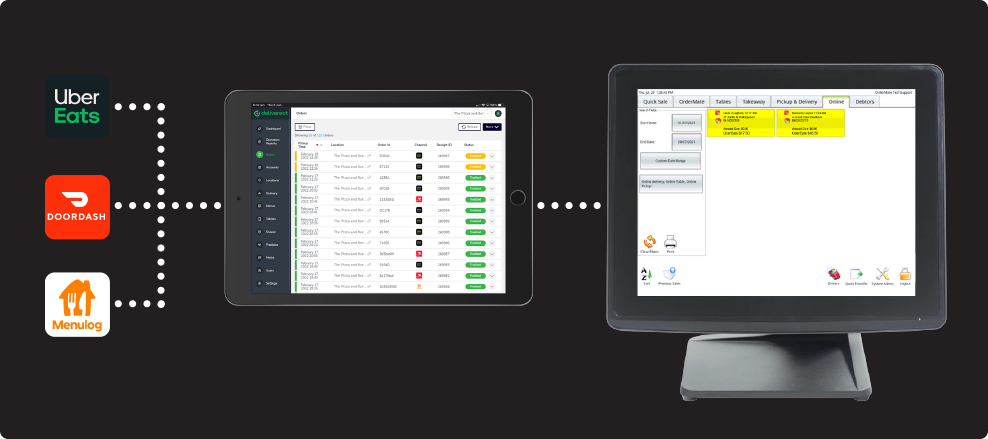 ---
Which Online Ordering Platform should you go with and when should you incorporate both?

How should you decide which type of Online Ordering Platform your hospo venue should go with? Can you be with both? When deciding what offerings to go with you must consider multiple factors, such as:
Product offerings - will your food be able to be transported easily and efficiently?
Who are your consumers and what do they want access to?
What's your budget and what you can afford to spend?
Your location - are you centrally located? are delivery drivers easy to access?
Are the items you offer fast to make?
Does your business have strong customer loyalty?
Unfortunately, there is no definitive answer to which type of ordering will work for your business as each business will have unique customer needs. However, if you are a new business you need to build your customer base and Marketplaces/Delivery Apps allow you to do this. People who may have never heard of your restaurant can come across you and try your offerings.
If your business is more established you may look at implementing your own Online Ordering Platform. This is because you have already built a strong customer base and customer loyalty so customers will order directly from your restaurant when wanting takeaway.
There are advantages of being with both types of online ordering, so why not open up both forms of online ordering so you can increase your delivery sales and revenue. This would work well for venues with larger kitchen spaces so your chefs can smash out all the orders, whilst also maintaining in-venue orders. It's important your kitchen can handle the increased orders coming through and not let the quality slip.
---
Are you interested in providing food delivery services to meet your customers demands? Reach out and talk to our hospitality consultants today! We can talk you through the best way to implement these integrations whilst keeping your venue running smoothly and efficiently.
Subscribe to latest news and updates!