Food delivery services such as UberEats, Doordash and Menulog have forever changed and transformed the hospitality industry. We have also seen the world change drastically due to the pandemic, with consumers forming new eating habits and delivery platforms experiencing rapid growth.
Previously only fast food venues, predominantly pizza chains, offered home delivery, now a vast majority of venues with diverse cuisines are onboard with this service. The hospitality industry is evolving along with the technology that is at the forefront of this change, permitting businesses to keep up with consumer demands.
Hospitality businesses are now wondering which online delivery platform they should sign up with in order to reach the most customers? Being on multiple delivery apps has previously been a challenge for restaurants to manage. A staff member is needed to manually accept and re-enter each incoming order as well as making space for all of the individual tablets. If you decide to sign up your restaurant for 4 platforms, you'll have 4 tablets to make room for on top of your own POS hardware. It just becomes a nightmare! Well it doesn't have to be… you can replace all the messy tablets and printers with Deliverect's easy-to-use Delivery Manager App that automatically syncs with your OrderMate Point of Sale.
---
What is Deliverect?
Deliverect connects all your online ordering platforms to your POS. Enabling your restaurant to meet customer demand with increased food delivery options. Restaurants large and small rely on Deliverect to reduce failures and order mistakes while speeding up order preparation. Delivery platforms that integrate with Delverect include UberEats, Doordash, Menulog & more.

---
Why use Deliverect?
Integrating with Deliverect allows your business to be able to manage all platform sale channels with ease. Deliverect has many benefits for your hospo business including:
---
1. Don't get delivery FOMO - be on all the platforms
No longer do you need to experience delivery FOMO. Don't guess and randomly choose which delivery app to be on - why not be on all the platforms? The benefit of being across multiple delivery platforms is that it increases your customer reach. With the opportunity to turn hungry customers in your area into regulars who keep coming back. Increasing your audience and getting in front of your competition has never been easier.
---
2. Increase sales
No matter the size of your venue, online delivery opens your restaurant up to customers that may not physically fit in the venue itself. You only have a set amount of seats and many customers aren't willing to wait around for a table. With online ordering, customers can order in their own time, wherever they are, opening up your business to new customers and increasing sales. Leave the technical side for Deliverect to manage and your restaurant can focus on what it does best, serving happy customers.
Implementing a strategically designed digital menu results in customers increasing their spending on each order. Strategic menu design and engineering are reported to grow profits by 10-15%. Great food imagery entices customers as we typically think with our stomachs and eat with our eyes. Deliverect makes it easy to update menus across all platforms as well as running promos for increased sales.
---
3. POS integration
A good POS system is one of your greatest assets in the hospitality industry. It enables your entire restaurant operations to run smoothly so your staff can focus on serving customers and delivering the highest quality of customer service.
Deliverect connects straight to your POS pushing through all online orders so you don't have to copy them across manually, one by one. Connecting your online orders to automatically go straight through to the kitchen printers and other locations just like any other order, allows for a much more streamlined process of operations. Eliminating the mess and headaches of what feels like so much manual work. Your customers will be thanking you too as you will now be able to get their orders out the door faster.
How does Deliverect work with OrderMate?
OrderMate POS integrates with Deliverect. We have partnered to build a reliable two-way integration, pushing all your online orders to your POS system automatically. Deliverect integrates with all the big online order platforms such as UberEats, Doordash, Menulog, and more. Save time, reduce costs and enjoy reliability with OrderMate POS and Deliverect.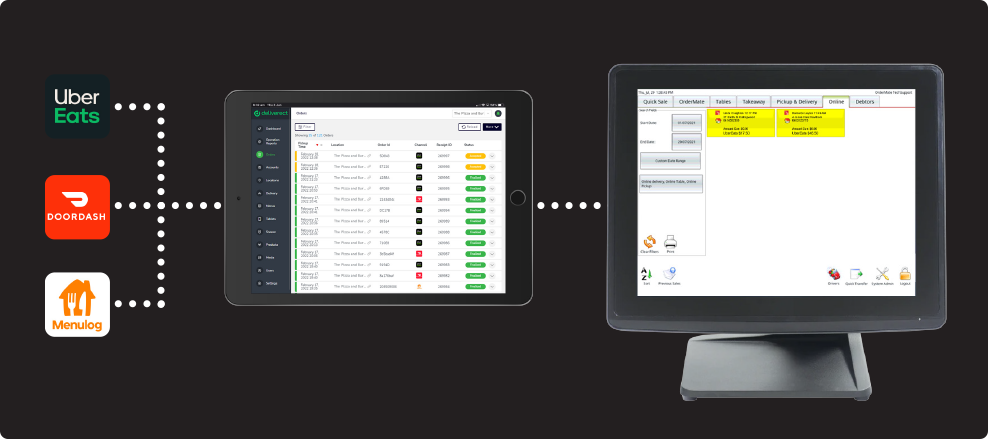 ---
4. Marketing exposure
Being across multiple delivery platforms provides the opportunity to be seen by more customers and doubles as a great marketing channel. It's a place where hungry customers can be exposed to your brand. You have the opportunity to showcase your food and beverages through beautiful imagery and make use of their in-app marketing features to reach even more customers and increase sales. It is reported by Doordash that 66% of consumers are using third-party delivery services to try a restaurant they wouldn't otherwise have tried.
Deliverect provides your business with tools to help update your online menus that can help market your offerings across multiple delivery platforms. Tools include:
Easily update all menus on the fly, across multiple platforms at once
You can snooze menu items as soon as they run out to avoid unhappy customers
Easily run promotional deals and feature items at the top of your online menus
---
5. Staff benefits
Reducing labour costs
Managing delivery orders can be a nightmare for staff. They are often stuck accepting, re-entering and managing each order that comes in. With Deliverect however, this task is no longer required, as it's all automated. Orders get accepted and sent to the relevant printers in the kitchen and other locations and operations are streamlined.
By cutting this requirement out for staff you are able to save money on labour costs. On average, restaurants using Deliverect report a 25% decrease in labour costs.
Staff time is freed up, allowing them to spend more time focusing on their in-venue customer needs and improving the customer experience. This is so important as customers are the heart of all businesses.
Reducing errors
Through the elimination of double handling, mistakes made on orders are drastically lowered. Deliverect reports that food order errors are reduced by 80% improving customer satisfaction and loyalty as well as saving money and keeping your chefs happy with the reduction of orders being re-made.
---
Online ordering has become extremely popular and you will be left behind if your venue is not offering this service. Deliverect is a great platform to integrate with OrderMate POS. Easily manage online orders and run your business smoothly while receiving and producing more orders. Reach out and talk to our hospitality consultants about Deliverect today!
Subscribe to latest news and updates!