The holiday season is almost here and it brings with it the opportunity for venues to capitalise on higher demand.
There are many things you need to think about and prepare for leading up to Christmas and New Year's. Here's a short checklist of the most important for you to get organised this festive season!
1. Create and Sell Gift Vouchers
Gift vouchers can be created to work with pre-generated barcodes, manually created codes or the OrderMate system can auto create a QR code to be printed for the customer at the receipt printer. Learn more about Configuring Gift Vouchers. We also integrate with Now Book It for Online Gift Vouchers.
Once you've configured your gift vouchers in OfficeMate or Now Book It, see the following Help Guides:
---
2. Use Debtors
To avoid no shows or last-minute cancellations, debtors are great to allow deposits to be prepaid by the customer. See these Help Guides:
Learn even more with our Using the Debtors Module in WaiterMate video.
---
3. Set up Public Holiday surcharges
Surcharges are a way to add either a flat dollar amount or percentage style additional charge to the customer's final bill. Venues utilise surcharges to cover additional operational costs they may incur when serving a large function, or servicing customers on public holidays where owner-operators need to pay extra rates for their staff.
Watch a short video recorded by Victoria with a step-by-step guide for applying public holiday surcharges.
Familiarise yourself with our Help Guides so that you and your venue are ready for the festive season:
---
4. Configure your combos
Combos are a great way to attract customers during the festive season. Venues can offer a free house wine with any main meal selected or apply a flat price to selected items within the combo. Alternatively, venues can encourage their diners to order more with 'buy one get one free' combos or provide a set discount when certain items are ordered.
Jackie from our Customer Success team conducted a webinar where she demonstrated how to configure combos and get the most out of OrderMate's POS for Christmas and New Year's. Watch the webinar recording.
---
5. Stock up with 20% off POSGear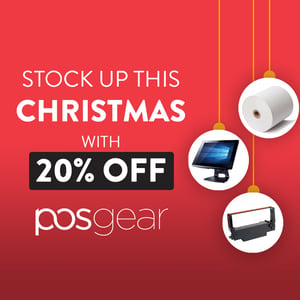 Get ready for Christmas and New Year's with 20% off POSGear*. Stock up so you won't run out of paper rolls, ribbon cassettes and more.
Head over to POSGear to shop around and take advantage of this offer.
Sale ends at 5:00pm on Sunday December 19, 2021. Make sure to enter the XMAS21 promo code when checking out to save 20% on your order.
* Limited time and select product ranges only.
---
As we come to the end of 2021 we'd like to express how proud we are to be able to support an industry with such resilience, endless creativity and grit. We would like to wish you a safe and prosperous Christmas & New Year!
If you need anything? Our unrivalled 24/7 support is ready to help.
Subscribe to latest news and updates!