The holiday season is almost here and it brings with itself the opportunity for venues to capitalise on higher demand.
While people will be catching up with their families and friends as well as supporting local restaurants, this year's festive season will look a little different. It's all about being safe by taking measures such as wearing masks, customer registrations, contactless menu, adequate distancing and hygiene.
On top of providing a safe environment for your customers, there are a few important things you need to prepare leading up to Christmas and New Year's. Here's our checklist for you to get organised this festive season!
1. Configure your combos
Combos are a great way to attract customers during the festive season. Venues can either offer a free house wine with any main meal selected or apply a flat price to selected items within the combo. Alternatively, venues can encourage their diners to order more with a 'buy x get one free' combo or provide a set discount when certain items are ordered.
Jackie from our Customer Success team has conducted a webinar recently where she demonstrated how to configure combos and get the most out of OrderMate's POS for Christmas and New Year's. Click here to watch the webinar recording!
---
2. Using debtors
To avoid no shows or last-minute cancellations, debtors are effective as the bill will be prepaid by the customer. Furthermore, the customer can order according to their budget which has been set in advance, allowing a more stress free experience.
Debtors are more important than ever now and leading into the festive season since there are certain restrictions in place for dine-in venues.

Victoria from our Customer Success team has prepared a 4 min video to illustrate how to set up debtors for Christmas and New Year's.
If you want to know more information about debtors, you can head to our online Quick Guides by clicking the links below:
---
3. Set up surcharges
Surcharges are a way to add either a flat dollar amount or percentage style additional charge to the customer's final bill. Venues utilise surcharges to cover additional operational costs they may incur when serving a large function, or servicing customers on public holidays where owner-operators need to pay extra rates for their staff.

Watch a short video recorded by Victoria with a step-by-step guide to applying public holiday surcharges in OrderMate's POS seamlessly.
Familiarise yourself with our online guides so that you and your venue are ready for the festive season:
---
4. Encourage repeat business through gift vouchers
Gift vouchers can work in conjunction with pre-generated barcodes, manually created codes or the OrderMate system can auto create a QR code that can be printed for the customer at the receipt printer.
Prior to being able to sell or redeem gift vouchers in WaiterMate, they must be configured in OfficeMate, find out more below:
---
5. Stock up with 20% POSGear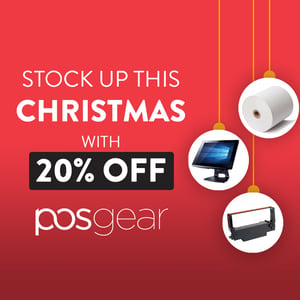 Get ready for Christmas and New Year's this year with 20% off POSGear so that you won't run out of paper rolls or ink ribbon cassettes at the last-minute.
We have a wide range of paper rolls, printers, terminals, tablets and accessories that will suit your venue's needs. Head over to POSGear to shop around and take advantage of our Christmas offer.
Sale ends at 5:00pm on December 15, 2020. Make sure to enter XMAS20 promo code upon check-out to save 20% on your order.
Although this festive season is unlike what it has been in the past, hospitality venues can still use this special time to engage with customers in a COVID-safe environment. Your customers will appreciate your effort and will be delighted to come back for more.
While you are anticipating a higher demand than usual, we are here and ready to help you. At OrderMate, we dedicate ourselves to delivering unrivalled support to you 24/7, so if you need to reach out to us for any support enquiries, call us at
or click here for other ways to get in touch with us!
Subscribe to latest news and updates!