Guest satisfaction is the cornerstone of any successful restaurant. In a competitive industry, it's what will set you apart from other restaurants to ensure your customers keep coming back. Even small increases in guest satisfaction can increase your profits. Researchers from Harvard Business School found increasing your Yelp rating by one star can increase revenue by almost 10%. But it's not easy. Guests have high expectations of the restaurants they dine in. If you want to impress them, it's important you take time to understand exactly what it is they're looking for.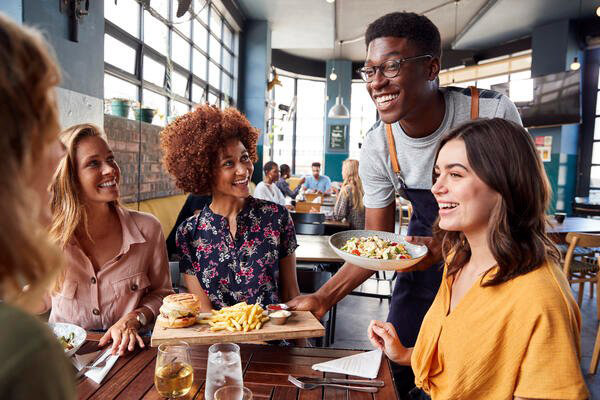 Struggling to know where to start? At OrderMate, we've spent a lot of time figuring out exactly what diners want to see in the restaurants they dine in. Here are 10 improvements we suggest you make first:
1. Make it easy for guests to make a reservation
Your opportunity to make a good impression starts with your first contact. If guests find it difficult to make a reservation, you're not getting off to a good start. Many people will browse your website before making a booking, so allowing them to reserve a table online is convenient for them. Restaurant owners are sometimes wary of online reservations, in case of increased no shows. But there are many ways to mitigate the risk. We recommend making a courtesy call the day before the booking. Not only does this provide an opportunity to verify if the booking is still required, but it enhances the customer experience even further.
---
2. Introduce self-service kiosks
Self-service kiosks are an emerging trend in the hospitality industry. According to research, 67% of people prefer self-service over traditional ordering. They improve customer experience by providing a fast and efficient service. This includes overcoming barriers to guest satisfaction, such as:
Language barriers
Errors made by restaurant staff
Long waits for staff to come to the table
Once implemented, self-service kiosks also benefit the restaurant beyond customer satisfaction. For example, they reduce overheads and improve the transaction value of each guest.
---
3. Use digital menu boards
Have you ever started to place an order, only to discover the meal you had your heart set on is unavailable? You can avoid this scenario with your own customers if you use digital menus. They are easy to change — so you can keep your menu updated as stock levels fluctuate throughout the day. There are a variety of digital menu board solutions on the market. From simple screens at the front of your restaurant — to individual digital menus on each table. You can even choose a solution that enables customers to order directly from their table. Guests can easily access allergy information — or check nutrition information — without having to send staff backwards and forwards to the kitchen.
---
4. Take payment at the table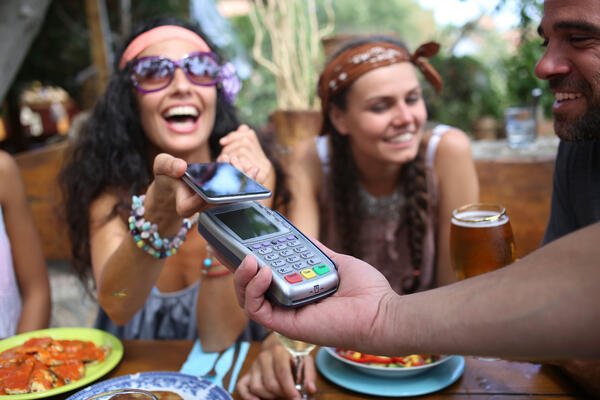 Using Pay-at-Table technology can dramatically improve your customers' experience. According to Oracle, 78% of people think it's important to be able to leave quickly at the end of their meal. Giving your guests the option to pay at their table gives them control. They don't need to wait around for staff and can leave on their own terms. It also means your employees won't be spending their entire shift chasing payments. This will give them more time to interact with your customers and ensure they're having a great time. To future proof your restaurant — and provide customers with the options they want — make sure your solution supports mobile payments.
---
5. Introduce a rewards program for loyal customers
If you want to improve customer satisfaction in your restaurant, making them feel valued is key. Loyalty programs are a great way to do this — and encourage guests to return again soon. For an effective loyalty program, make it as easy as possible for the customer. Don't give your guests a punchcard. Instead, integrate your loyalty program with your POS solution. Keeping it digital means your guests are more likely to use — and benefit — from the rewards.
---
6. Allow guests to order online
Online ordering has a multitude of benefits for both you and your customers. Sometimes, guests want your food but don't want to dine in. Allowing them to order online— either for takeout or delivery — gives them the experience they're looking for. But why not just take orders over the phone? For starters, not everyone wants to pick up the phone. It's likely your customers are already on your website — reading the menu — so online ordering is the most convenient option for them. It also reduces errors made by staff in your restaurant — and means they don't have to spend time taking calls. This frees them up to keep providing excellent service to your in-house guests.
---
7. Analyse your data for trends
Your POS solution should gather a wealth of data about your customers. How do you use this data to improve your restaurant? This isn't just about stock management. It's a valuable opportunity to improve your customer experience. It can help you answer questions like:
How many members of staff do I need to give each guest the attention they deserve?
What tweaks are people making to menu choices?
How can I use this information to create a menu people love?
The data is there for you to use — so make sure you do.
---
8. Minimise staff mistakes
Human error is one of the biggest factors affecting guest satisfaction. For this reason, you should do whatever you can to reduce the number of mistakes made by employees. This goes beyond training. It's natural for humans to make mistakes — no matter how well they're trained or how hard they try. Use technology to your advantage. For example, handwritten orders are notoriously inaccurate. Taking orders electronically enables staff to select menu options and make customisations on a device, improving accuracy.
---
9. Get customer feedback
This sounds like a no-brainer, but many restaurant owners aren't doing it. Ask your customers for their feedback. You can integrate this into the checkout process. Don't overcomplicate it — a simple rating scale with the option to add a comment is enough. Make sure you regularly review feedback — and act on it.
---
10. Prioritise customer service
The best way to improve guest satisfaction is to prioritise customer service in everything you do. From the moment your guest walks through the door, to the moment you leave, let them know how important they are to you. Train your staff well. Set targets for the service level. Use the right technology.
At OrderMate, we can help you tick lots of these boxes with our POS system. We customise our solutions to meet your exact needs, but can include things like:
Self-service kiosks
Online and table ordering
Payments at either counter or table
Loyalty programs
In-depth reporting and analytics
Keeping your guests happy is at the heart of what we do— so get in touch to find out how we can help. Leave us a comment below or simply write to us at
.
Subscribe to latest news and updates!